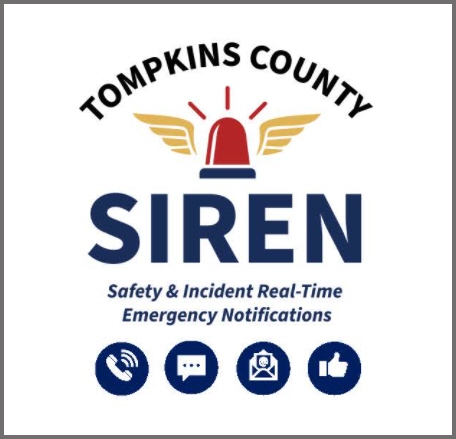 Tompkins County Department of Emergency Response has announced that Tompkins County SIREN is now available to all residents and will soon replace the current Swift911 mass notification system. Tompkins SIREN, or Safety & Incident Real-Time Emergency Notifications, is a free service that allows individuals to receive alerts sent from local authorities to stay informed on potentially hazardous situations involving weather, traffic, and other emergencies.
Tompkins County SIREN allows residents to receive alerts via phone, text and email, and answer poll questions that will give local officials critical information during emergency situations. Individuals who are signed up for alerts can also receive reliable information about the county's COVID-19 response and other public health notifications.
Individuals who were previously signed up for Swift911 will be automatically enrolled in the new system. However, they are encouraged to create a profile in the new platform.
Residents of Tompkins County who were not previously signed up for Swift911 should sign up for free at: https://www.tompkinscountyny.gov/SIREN or by texting SIREN to 67283. They may also register by contacting the Department of Emergency Response at (607) 266-2633, or email SIREN@tompkins-co.org. They can also identify when and how they are alerted and communicated with before, during, and after emergencies.