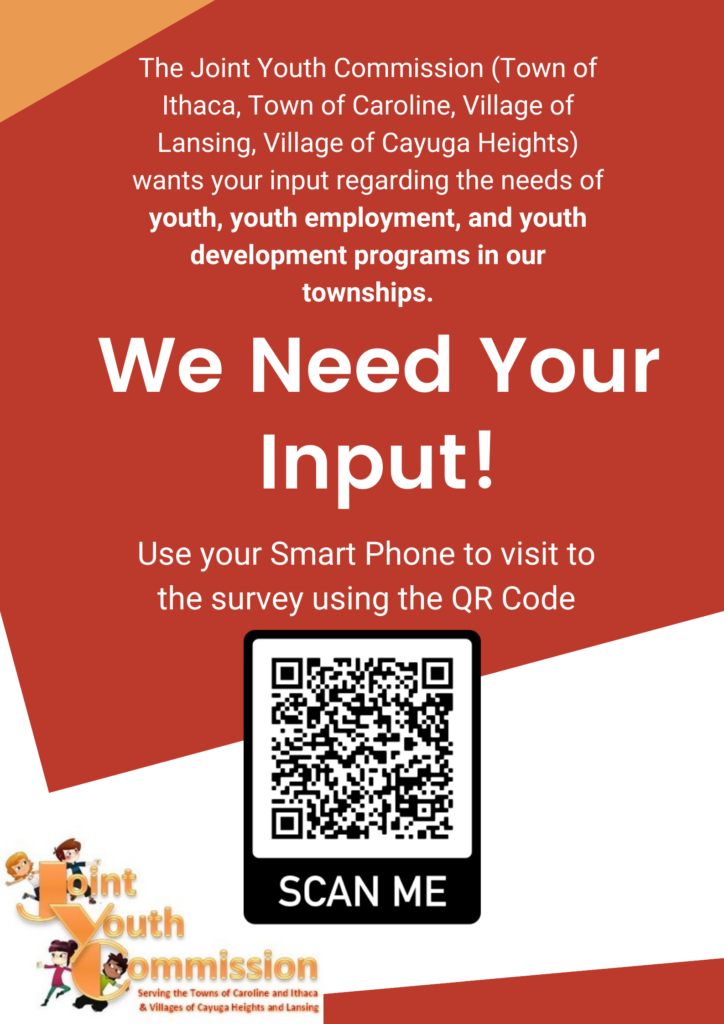 The Joint Youth Commission (Town of Ithaca, Town of Caroline, Village of Lansing, Village of Cayuga Heights) wants your input regarding the needs of youth, youth employment, and youth development programs in our townships. The JYC solicits this information every few years to make sure we are concentrating our efforts and our funding in the right areas that will best serve the youth in our communities.
The JYC currently contracts with 5 youth programs–The Learning Web's Youth Exploration Program, Ithaca Youth Bureau's Youth Employment Services (YES), Cornell Cooperative Extension Rural Youth Services Program, Coddington Road Community Center Counselor in Training Program, and The Youth Entrepreneurship Market (YEM).
Please take a moment to share your input!
You can submit your feedback via the JYC's Needs Assessment Survey anytime before March 31, 2022.
For more information on the JYC visit their Facebook page: @JointYouthCommission; https://www.facebook.com/JointYouthCommission

Thank you!
Bridgette Nugent, MSW
Deputy Director
Tompkins County Youth Services Department
320 W. MLK Jr./State Street
Ithaca, NY 14850
607-274-5310
607-274-5313 (fax)